Studio Info & Policies
About "heART SCHOOL"
WHY: I call my studio "heART SCHOOL?" because healthy living requires centering your heart, and art-making is a great way to do it. I can help you learn how, through mark-making, risk-taking, rule breaking, and norm-shaking—which all lead to soul-waking—in a safe and supportive environment.
WHAT: Check out the Calendar page for upcoming workshops and events. Scroll down below the photo tour for more about what I teach.
WHEN: heART SCHOOL is only open when a class or event is in session.
WHERE: heART SCHOOL stands on the traditional land of the Chinook, Clackamas and Cowlitz people. We recognize their stewardship of this land, past, present and future, which is also known as NE Portland's Alberta Arts District. The studio is located half a block north of Alberta Street. This map shows our general location. The specific address is given in the class and event listings. Scroll to the bottom of this page to hear more about our vibrant neighborhood. Look here to learn more about the practice of acknowledging native land, and here for an interactive map to help illuminate the history of where you live. (Note: I'm still a novice at native history. If you have more information about this neighborhood and its peoples to share, please email me: pam@allhandsart.com. Thank you.)
Take a look at our lovingly remodeled 300 square-foot art studio in the photo tour below. The space is stocked with plenty of creative energy and materials, and equipped with large tables that provide a comfortable workspace for 6 - 10 people, depending on the activity. With the use of outdoor space we can accommodate slightly larger groups, weather permitting. Want to come by in person to see if we're a good fit for your event? Email me (pam@AllHandsArt.com) to arrange a brief visit.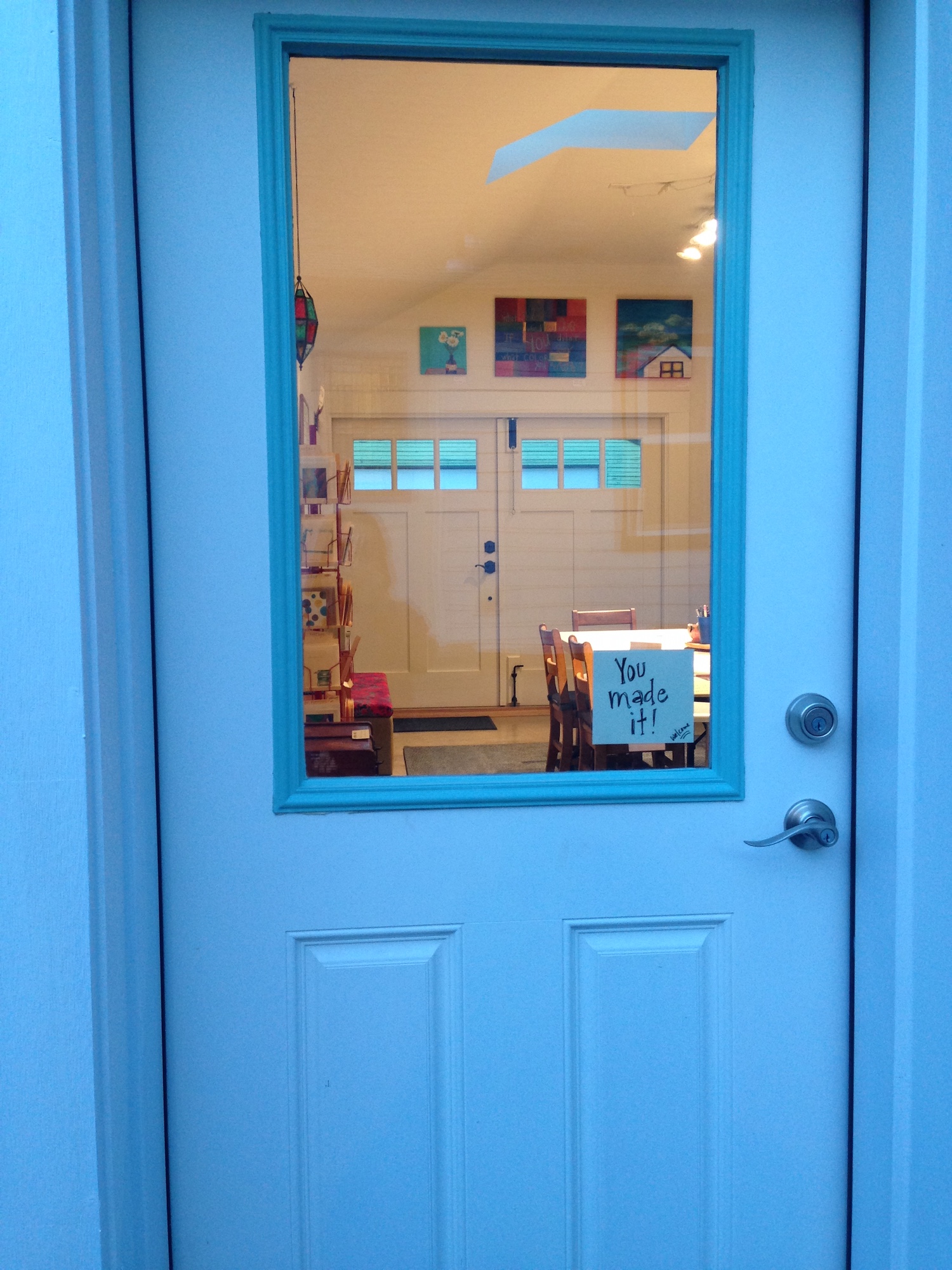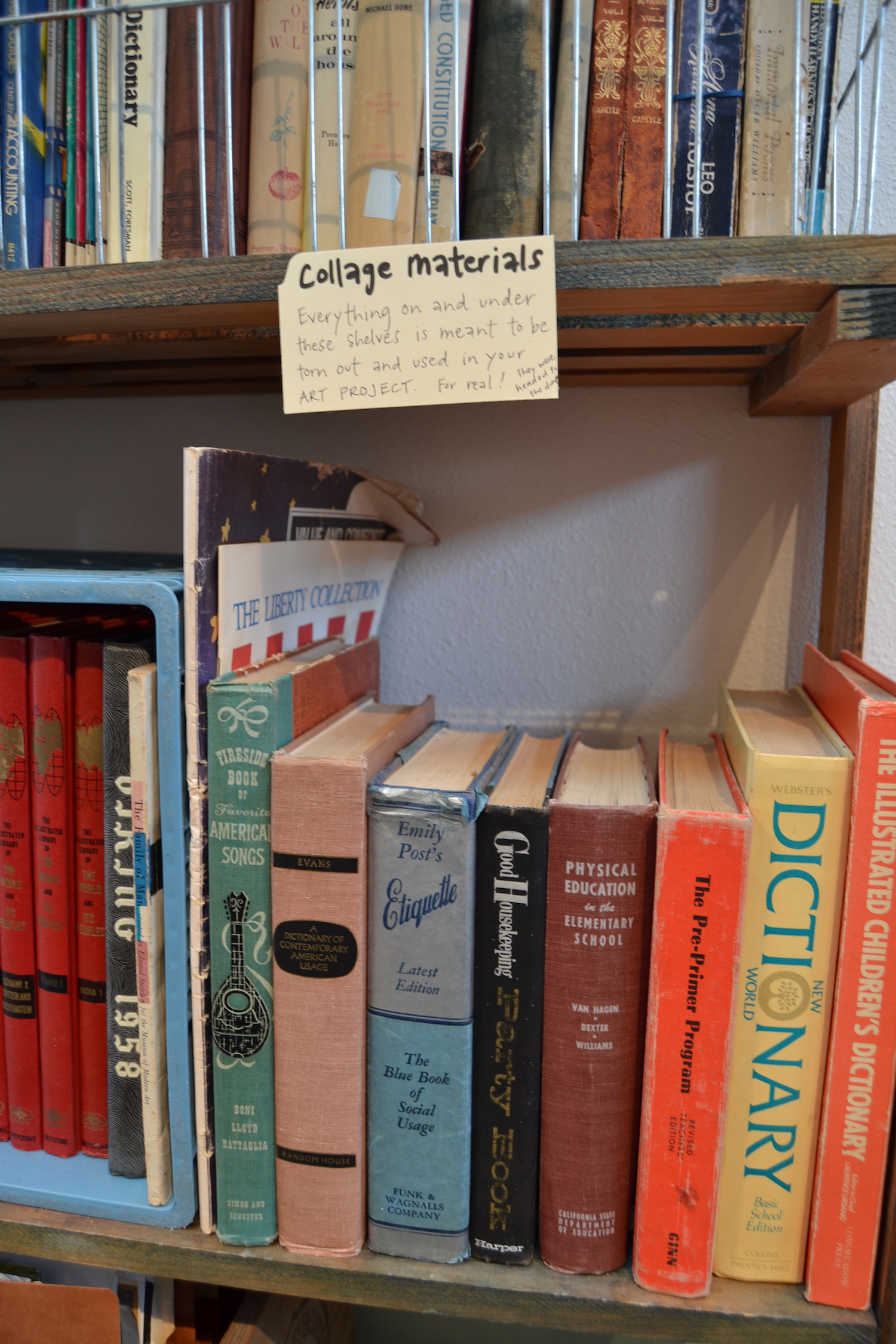 WHO:
Age: Our workshops are geared toward adults, but children age 8 and up are welcome to participate with an adult who is also signed up for the class. As a former long-time elementary school teacher, I'm taking a break from working with groups of children. However, I love the spirit of inter-generational art-making.
Accessibility: The studio is accessible to people who use wheelchairs or other mobility aids. Visitors may drive or roll right up to the double doors via the back alley. Contact me (pam@allhandsart.com) about other modifications you or your group require.
Intentional Outreach + Healing through Art: While I work on my own healing, I'm interested in improving our community's and our nation's health as well. I'm working to educate myself about our country's past and continuing practice of inflicting racial trauma on specific groups of people. I offer ALL of my scheduled workshops on a sliding scale those who identify as African-American or Native American. If you don't see a discount option during checkout, email pam@AllHandsArt.com and I'll get you set up.
In line with the above intentions, I donate studio time, and deeply discount materials and requested instruction—to organizations dedicated to lifting up the African-American and Indigenous communities. If this describes your work, let's talk! We can arrange a staff retreat, volunteer appreciation art party, or creative team-building event at my studio, at low or no cost. If your group is larger than 10 people, I may be able to bring an art activity to your work space instead.
Community Partnerships: Along with reaching out to groups mentioned above, I aim to make heART SCHOOL an integral and beloved part of our neighborhood. We're kinda new around here and still getting things going, but watch this space to hear about collaborations with local businesses that are in the works. For example, like to do YOGA? My friend and amazing instructor, Erin Nova, teaches yoga on Saturdays at noon half a block away at the Cruz Room Annex on Alberta Street. I sometimes schedule my Saturday classes at 2:00 pm so that you can get some exercise and stretching with Erin (for $10), enjoy lunch at any of the dozens of nearby eateries, and then pop over to make art with me. How's that for a day of self-care??
MORE ABOUT WHO/WHAT/WHY, and a bit of HOW: As a Jill-of-all-trades type of artist, I offer a variety of workshops all with the same goal: to pull back the curtain and make art accessible to anyone with the interest and willingness to try. I'm not the least bit interested in talent — it's so over-rated! Art skills are just like everything else: When you bring your curiosity and take time to practice, you get more comfortable and adept with the materials and with your ideas. I do my best to create a friendly and welcoming atmosphere where you'll feel free to relax, try new things, make "mistakes" and then explore ways to turn them into happy accidents (as Bob Ross would say), and just have some fun. Nourish your soul.

* Don't see what you're looking for on the class calendar? Send me a message about it, and maybe we can make it happen.
* See something you like, but you'd rather bring your own set of friends and schedule a private class or art party? Yes, let's! Click on over here for that.
About Our Policies
Cancellations/Refunds: You may cancel your purchase of a class up to 48 hours before the start time and get a full refund. If you need to cancel within 48 hours of the start time, contact me (pam@allhandsart.com) to either: 1) receive 50% of the cost as a refund, or 2) apply the total amount to a future class.

About Our Neighborhood
Our beautiful backyard studio is smack in the middle of NE Portland's Alberta Arts District. It's a vibrant and very walkable part of town. Parking is free and pretty easy to find, and we're served by several Tri-Met bus lines. Consider allowing time before or after your art class to check out the nearby shops and galleries, or catch lunch, happy hour, or dinner in one of the many bars and restaurants within easy walking distance. Heck, we've got a coffee shop, three bars, and a food truck court ALL WITHIN ONE BLOCK of our place! How convenient is that?